Suitable clothing and footwear according to season. In winter a sweater or light jacket is recommended.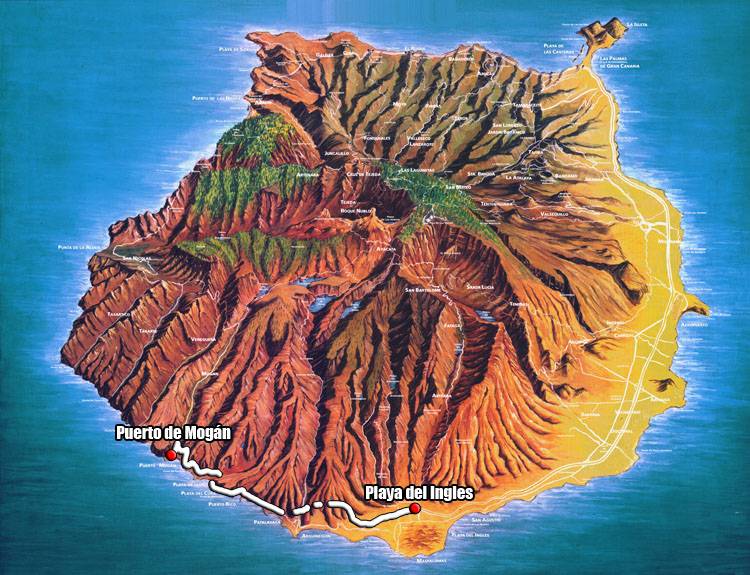 On this trip, you'll get to know a little fishermen village reconverted into one of the most picturesque and pretty resorts on Gran Canaria. You can even choose between enjoying a fascinating boat ride from Puerto Rico to Mogán or enjoy the coastal scenery by bus to Mogán harbour. The Harbour of Mogán is renowned for its multi-coloured bougainvillea plants, colonial architectural style and canals, which have given Mogán the nickname: "Little Venice". Take a stroll along the modern sports marina, with its typical shops and cafes. On Friday, you can take advantage of the Canarian market, with typical island products. We stop in Puerto Rico to take some pictures and you can take a little walk.
Itinerary (6 hours):
Pick up by bus.
Transport to Puerto de Mogán (Stop in Puerto Rico for clients who wish to go by boat).
Free time in Puerto de Mogán
Return to the hotel.
We encourage you to discover with us on this excursion a fishermen village converted into one of the most picturesque and beautiful tourist centres of Gran Canaria: "Puerto de Mogán". This tourist resort, is the one that everybody would like to have in their own country. Built in the early 80's around a small fishermen village with land gained on the sea.
In every corner of "Puerto de Mogán" you find original and small shops with a great variety of handicrafts, cotton clothes, objects of decoration, amongst many other things and exclusive of the area.
Every Friday takes place in this port one of the most important markets of Gran Canaria. A vibrant market that encourages you to stroll between the thousands of stalls you find in it, mix among its people and live an environment that transports you to the oriental bazaars and where you find tropical fruits, plants, leather goods, clothes, footwear and all kinds of jewellery amongst thousands of other objects of interest ....
Not only do you have the typical and lively stalls of a market, but also the exclusive boutiques of the most recognized brands, jewellers, perfumeries and much more ..., two atmospheres in one place.
The gastronomic offer is also very varied and here you can satisfy your desire enjoying a refreshing drink or eat something while listening to the murmur of the sea next to the beach or in one of the many restaurants surrounding the modern and romantic marina of Mogán.
The beach of Puerto de Mogán is an artificial beach with fine golden sand of calm waters and where you can swim placidly or enjoy the water sports that are offered there.
Before arriving at Puerto de Mogán, we stop at the dock of Puerto Rico, to see its beach and sports harbour. Here you can either choose going on a fascinating boat trip on the way from Puerto Rico to Mogán or border the coast with a modern bus to Mogán, a town known for its multi-colored bougainvillea, colonial architecture and canals that assigned it the nickname of "Little Venice".
After a few hours in this Puerto de Mogán, you will want to return on another occasion.