Full tour of Gran Canaria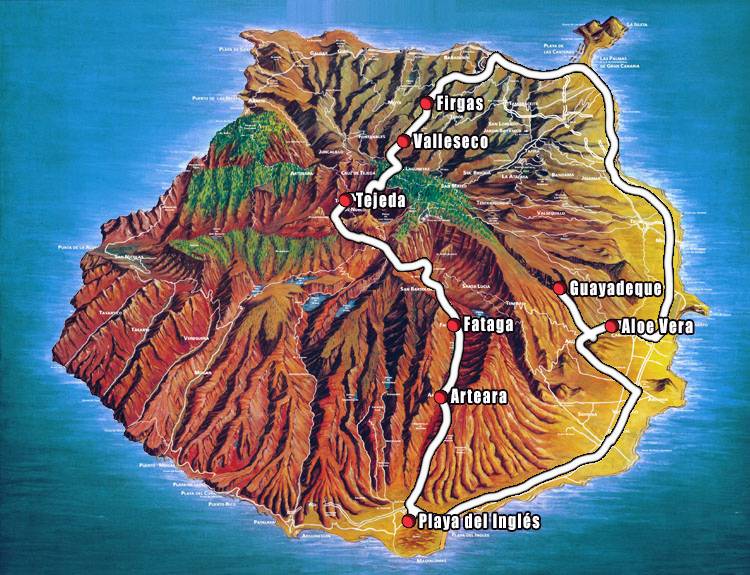 A complete experience that takes you to the history of our island ! Driving past the picturesque typical village of Agüimes (old aboriginal quarter) we arrive at "Guayadeque". Discover and visit a Village of caves in one of the most spectacular ravines of Gran Canaria. Our next visit is to an Aloe Vera plantation. Test on your own skin the magnificent properties of this plant. Reaching the north, stroll through the beautiful streets of the smallest "county" on the island, "Firgas". We pass small farms full of traditional crops. The interior of the island shows us its green heart, deep canyons and breathtaking mountain scenery as well as the majestic "Roque Nublo". After reaching the summit, we continue our route surrounded by Canarian pines and the almond trees of Ayacata. We visit the village of Fataga known as "The valley of the thousand palm trees".
Linda

The tour was fantastic, a bit too long for the kids but we learned a lot about the island, highly recommended.
The visit was made by 06-06-2017
Jesús Torrado

La excursión estuvo bien, salvo por el restaurante, el Balcón de Zamora, donde la calidad precio no es buena, cantidad y calidad escasa para el precio que nos cobraron, mal servicio, un local muy grande sin aire acondicionado, muchas malas caras y una negativa cuando pedimos que nos acondicionaran un lugar más cómodo para intentar estar más frescos. Gracias a nuestro guía Tom, conseguimos que nos sentaran junto a una ventana, que al principio se negaron a abrir. El resto de la excursión fue muy agradable.
The visit was made by 16-08-2018
Almu

Una excursión muy completa por el precio que hemos pagado, tanto yo como mis amigas lo pasamos muy bien con un guía muy informativo y entretenido. Muchas curvas antes de llegar a un pueblo donde se cultivan sobre todo tomates, san nicolás, por lo demás la comida en el puerto de Agaete fue muy buena y típica. De regreso después de comer paramos en las Palmas y hubiésemos querido estar algo más de tiempo pero por lo demás un tour muy recomendable para quien quiera conocer la isla por la costa.
The visit was made by 18-07-2018