Excursions Gran Canaria: Mogán - Agaete - Galdar - Las Palmas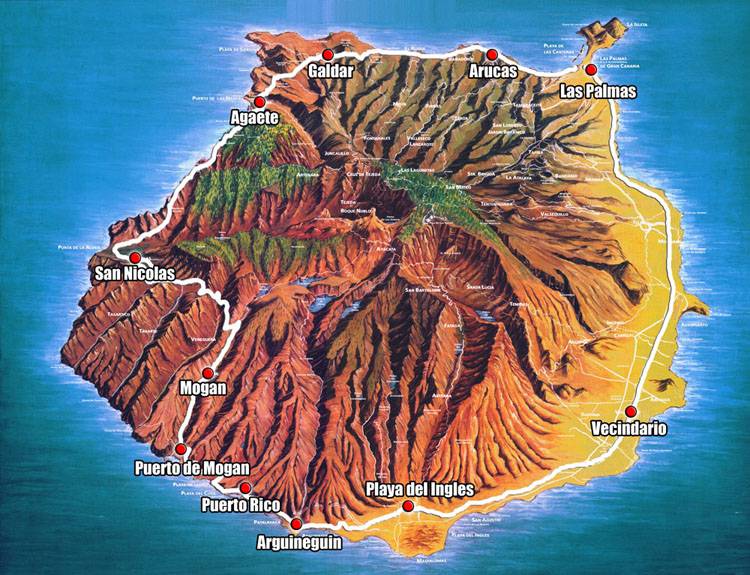 All four coasts of Gran Canaria in just one trip! We start by heading southwest, visiting the picturesque fishermen village of "Puerto de Mogán" known as "Little Venice". We then carry on through volcanic landscapes and mountains of a thousand hues to San Nicolás, centre of Gran Canarian tomato growing. The west coast, with its beautiful cliffs, leads us to "Puerto de las Nieves" in Agaete, where we'll see what's left of the "Finger of God". Passing through Gáldar, Guía and Arucas (villages which are known for its Banana Plantations) we arrive at Las Palmas, we'll have the chance to stroll along the famous "Canteras" Beach, and snap the "Alfredo Kraus" Auditorium. After an unforgettable day, we'll return to the south via the east coast of Gran Canaria.
Maryjoy Gerald

The island tour through gran canaria was a great tour that I would not forget to recommend to anyone who visit gran Canada. My boyfriend and I decided to make this tour the first activity to do when we get there and we definitely did not regret it. One is directly picked up from his hotel and brought back. Tourguide Tom is a genius; told the beautiful stories of gran canaria in three different languages (English,German and Spanish). He made sure that the day was wonderful for us. Really a recommendable tour
The visit was made by 17-08-2018
Niek

Just fantastic. A very complete excursion along the coast of the island, we have had a great time. An excellent bus, the guide was very informative and the food in the fishing village in the north of Gran Canaria was quite correct for the price we paid.
The visit was made by 08-08-2018
Almudena

Por alguna razón pues el comentario de la vuelta a la isla en la excursión del VIP, pero las dos excursiones me encantaron. Si haces el VIP por el centro de la isla y vuelta a la isla te llevas una más que completa idea de lo que gran canaria te puede ofrecer y te vas con una idea de la isla totalmente diferente a cuando llegas a Gran Canaria y piensas que todo es cemento y hoteles.
The visit was made by 18-07-2018